"35% of a dog is genetic – 65% is socialization, management and nutrition."
~ The Monks of New Skete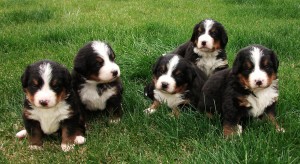 We require all future puppy owners to fill out our Puppy Application to be considered for one of our puppies.  Please fill out the application and email it back to us, thanks!  Our puppies are sold for $2,000 with limited registration (spay/neuter contracts).  $300 non-refundable deposit is required to hold a puppy.
 We take pride in our puppies, and make sure they are well rounded, healthy, social, and well mannered pups before they even go home with you. Take comfort in knowing that you would be getting a puppy that is raised from an experienced breeder/trainer/behaviorist. All puppies are raised in our home, NOT outside. All puppies are started on potty training at 3 weeks old (usually 90% potty trained by 5 weeks old), bite inhibition, impulse control, crate training, coming when called, and more!
Included with your puppy is: Wasatch Canine Camp's group puppy training package, dewclaws removed, deworming done, 3 year health guarantee, MANY puppy training/behavior/nutrition packets for you to take home, AKC paperwork, UNLIMITED help and support from Wasatch Canine Camp, UNLIMITED socialization classes your puppy can attend through Wasatch Canine Camp, they will undergo Early Neural Stimulation from 3 days – 4 weeks old (proven to create pups that are less prone to an over-reaction to stimuli, tend to be much more social, and adapt to change more easily, as well as become more resistant to certain forms of cancer and infectious diseases), they will be adjusted by a chiropractor at 5 weeks old (because the birthing process is so hard on them, this will help them develop properly as they get older), they will complete Volhard's Aptitude test at 7 weeks old (to help us place each puppy in the right home), they will be started on potty training, crate training, and coming when called, they will be extremely socialized to kids, dogs, cats, people (we have them meet 100 people before leaving to their new homes), noises, obstacles, and new objects… We do it right.
____________________________________________________
PLANNED LITTERS:
____________________________________________________
**Sire/Dam of the planned breedings below are subject to change at anytime due to heat cycle timing, health clearances, availability, etc.
Please know that our waiting list is always at least 6-10 months long!**
Summer 2018 Litter T – Odyssia van't Stokerybos, CGC CGCA CGCU X BIS GCHB CH Schneehunds Mountain of Light, CD RN CGC NDD DD TDI  *Repeat Breeding*
Summer/Fall 2018 Litter U – WCC's Noble's Foxy Lady X WCC's Yankee (pending health clearances)
Summer/Fall 2018 Litter V – WCC's Vaporeon's Waterfall X sire TBA (pending health clearances)
The following two tabs change content below.
Experienced Dog Trainer and Bernese Mountain Dog breeder, I love Berners and am always looking for ways to better the breed and improve our breeding program from a holistic approach.
Latest posts by WCC Berners (see all)