**Lilly blessed us with 2 amazing litters (litter A & B) and is now retired and living a happy life with our good friends the Talkingtons in Eagle Mountain, UT**
_____________________________________________________________
Berner-Garde ID:

 83056

Registe

red

 Name:

 

WCC Lilly, CGC

Call Name:

Lilly 
DOB: 10/23/09
Weight: 85 lbs

Registration #:

 

WS32261302

 (click to view pedigree)

OFA Hips:

 

GOOD

 (click to see certification)

OFA Elbows:

 

NORMAL

 (click to see certification)
_____________________________________________________________
 Lilly has been an amazing mother to all of her puppies, and has thrown some amazing puppies, but she is now retired from breeding.  She threw two awesome litters for us, and we wanted to do two more litters with her, but while giving birth to her second litter (litter B 2012) she had a lot of complications that lead to her getting a c-section.  The vet recommended we spay her, since that litter was so hard on her, and we agreed with the vet.  Lilly is now just an awesome member of our family, and enjoys her life playing with puppies and helping us train dogs we work with.
Lilly is a very sweet, mellow and submissive Bernese Mountain Dog.  Lilly is AKC registered and has OFA "good" hips and "normal" elbows.  Lilly also has 4 champions in her 5-generation pedigree.  Lilly was born October 23, 2009.
Lilly is extremely sweet and friendly with people and kids of all ages.  She has been raised with at least 5 other dogs since the day we got her, which has made her extremely social with other dogs.  She is a great family protector, and will bark once or twice to let us know someone is outside, but she is NEVER aggressive.  This trait is typical for the Berners.  They are natural protectors, but because of their sweet nature, they are never aggressive.  Lilly is very mellow and extremely smart.  She is the first Bernese Mountain Dog I've ever owned, and since having her I have decided to always have one in my family.  They are an amazing, and beautiful breed.  They are well worth the investment!  I have never been more attached to a dog than I am to Lilly (and being a dog trainer, I work with 100's of dogs).  Her mom was a lot like Lilly, and so I know these amazing characteristics will be past down on to her puppies.
 _____________________________________________________________
Click to see Lilly's Sire's pedigree
Click to see Lilly's Dam's pedigree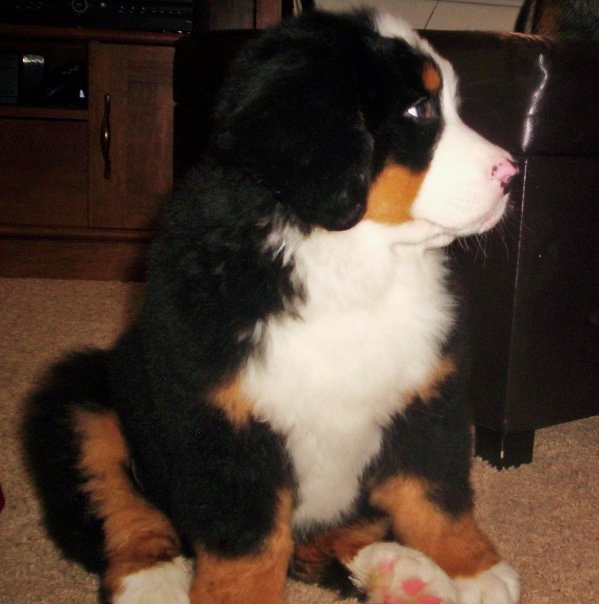 The following two tabs change content below.
Experienced Dog Trainer and Bernese Mountain Dog breeder, I love Berners and am always looking for ways to better the breed and improve our breeding program from a holistic approach.
Latest posts by WCC Berners (see all)